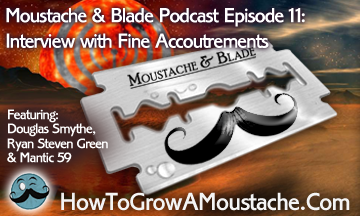 Welcome to Episode 11 of Moustache & Blade, you are certainly in for an epic ride down the wet shave highway! Today Douglas shares his tips and tricks on breathing life into your very own FrankenRazor, while Ryan dabbles with frequently seen but seldomly understood wet shaving acronyms! Then Mantic 59 drops some more wet shaving nuggets while Todd Cerami, Mr. Fine of Fine Accoutrements takes the conversation from now back to the Revolutionary War…and then some!
Books Spoken Of On The Show
The 4th Turning By Straus and Howe
Leisureguy's Guide to Gourmet Shaving – 6th Edition: Shaving Made Enjoyable By Michael Ham
List of Wet Shaving Acronyms For The Noob
Notes From The Noob: Ryan Steven Green's Wet Shaving Journal – Entries 1-3
[Scroll Down For Photo Of FrankenRazor!]
The Greenberg Generation?
[vsw id="bhDjWSJk0cQ" source="youtube" width="525″ height="444″ autoplay="no"]
If you have any questions in regards to facial fur or wet shaving please leave it on our show voice mail and we will be sure to answer it for you and possibly air it on a future episode!
A special Thanks again to Todd Cerami for stopping in today and sharing his thoughts and personal insight on wet shaving, bravo! Join Fine Accouterments Facebook page today and stay informed on specials and new scents as they roll out!
Subscribe Today!
(347) 333-1511 [outside of US dial oo1 first]
You can also contact us via email: Douglas@moustacheandblade.com or Ryan@moustacheandblade.com
Please Follow us on Twitter
Please Check Out The Phoenix Artisan Accoutrements Store
– Phoenix Shaving Soap, Brushes, Razors & More!-
 We also encourage you to please help us get the buzz out and visit: http://moustacheandblade.com this will bring you to a pre-populated tweet that all you need to do is send! Thanks again for listening and check out our other episodes!